Client Sociedad Química y Minera de Chile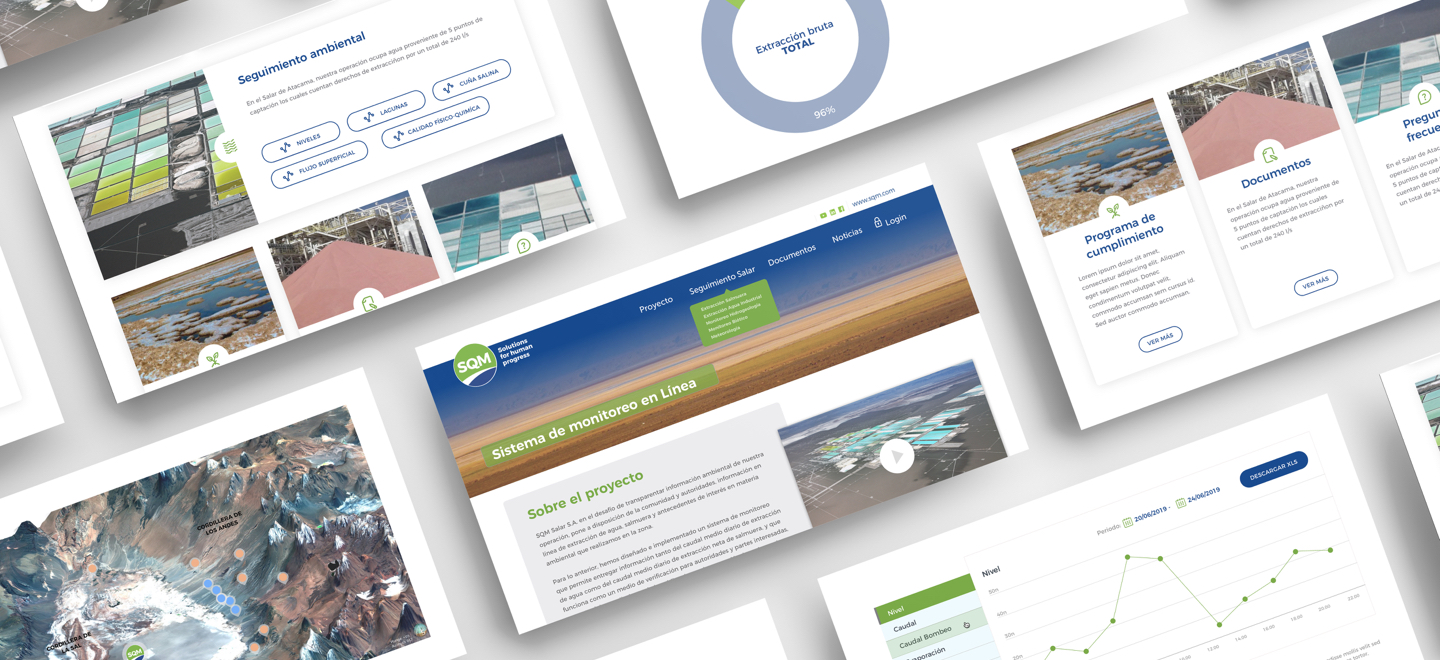 Sociedad Química y Minera de Chile
Sociedad Química y Minera de Chile (SQM) is a leading company, whose diverse projects include lithium extraction in the Salar de Atacama, which was the context for this monitoring system project.
Challenge:
Our challenge was to provide the communities, environmental authorities and the general public with a platform where they could look for monitoring data and information on SQM's operating processes in the Salar de Atacama.
Result:
We succeeded in developing a web platform, integrated with a number of services fed through an API. Its query and search functionalities allow users to access thousands of graphs, tables, downloads and other documentation of interest to the public.
Impact:
The SQM Salar Online Monitoring system set a historical company benchmark in terms of access to information on its production processes by creating an educational, scientific and statistical platform that reflects its engagement with the community and the environmental authorities.
225
There are 225 hydrogeological monitoring points that provide historical data stretching back 20 years.
Environmental commitment
How to provide complex information to a diverse audience?
One of the key features of this great project, and part of the client's basic requirements, is the ability to deliver data and technical information in a manner that is simple, up-to-date and educational.

We designed and developed two large digital layers: a public website providing access to thousands of data associated with hydrogeology, the biotic environment and technical documentation. Then, we also developed a backoffice to manage the entire multi-language website, connected to a series of systems used to access pre-processed data.
It also features an educational module that uses images and multimedia content to explain the entire brine extraction process in the Salar de Atacama, providing communities and the general public with clear educational information on these processes.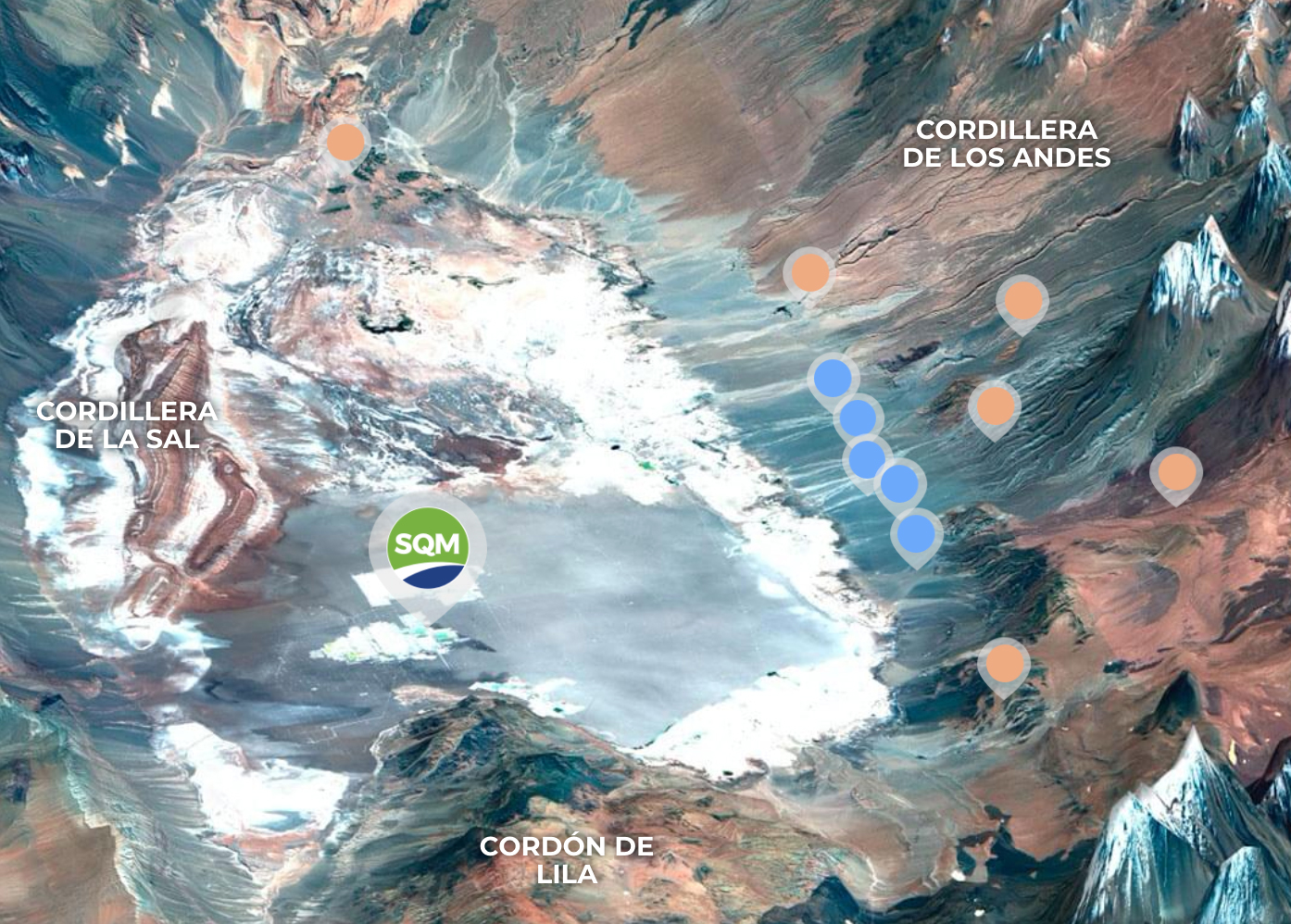 "The online monitoring project posed an enormous challenge for the company, given the sheer number of records, their frequency, interrelation with different areas and the very tight development deadlines. Having the constant support of Ilógica and Flow Hydro was instrumental in accomplishing the goal we had set to provide information to our diverse website audience in a timely and accurate manner. This project is also a key element of our sustainability strategy and provides valuable resources on our operations in the Salar de Atacama, making us a global pioneer in terms of data availability."
UX consultancy and continuous improvement
This project, which is currently underway, also involves a number of ancillary services to constantly improve the user experience, provide new integrations, sections and deliver a 24/7 support service for the entire platform.
Middleware development
Integration of systems with data and content sources, providing a tailor-made backoffice.
Multi-language system
Given the global reach of this platform, the website can be adapted to any language chosen by the client.
24/7 support
We delivered complementary hosting services on Google Cloud and 24/7 support through monitoring tools.
Integration
Amcharts
The project envisaged the widespread use of graphs as a key part of the entire platform. That is why we integrated the Amcharts library, which provides high-level visuals and allows for data to be downloaded.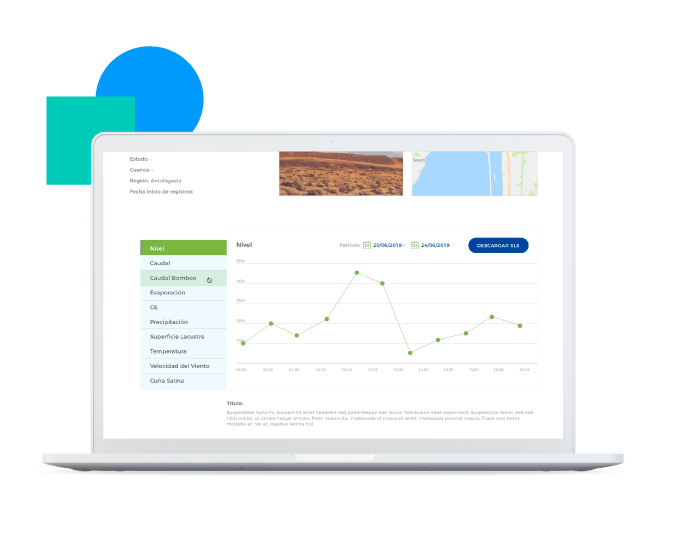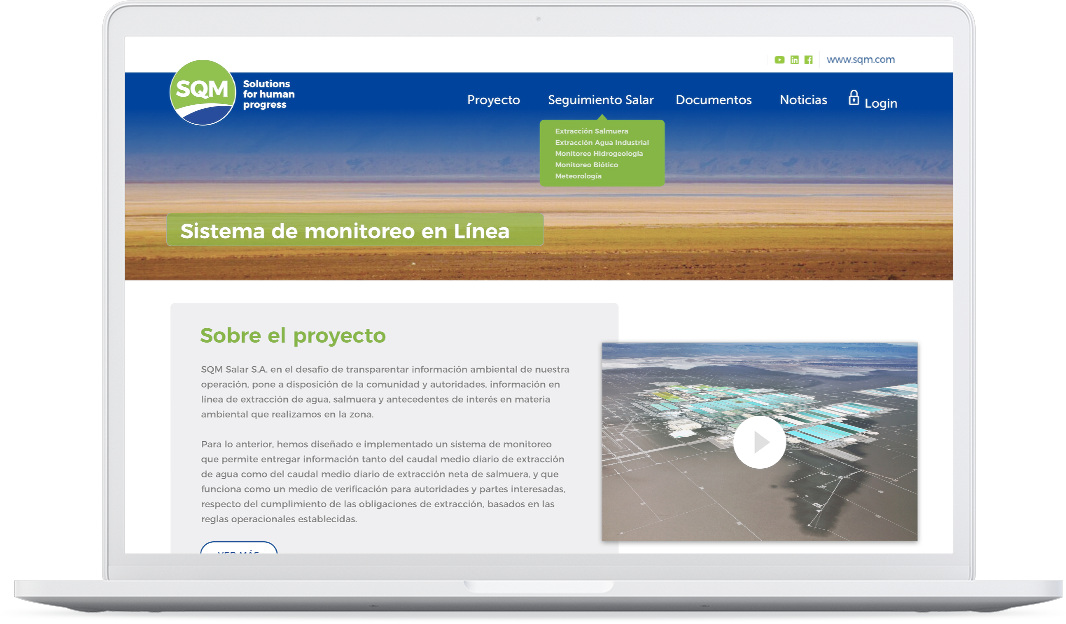 Product and service design